Quad Bike

Gear up for an exhilarating adventure with our Quad Bike activity. Get ready to experience the thrill of off-road exploration as you navigate rugged terrains, conquer challenging obstacles, and embrace the adrenaline rush that comes with riding a powerful all-terrain vehicle. Here's what our Quad Bike activity has in store for you: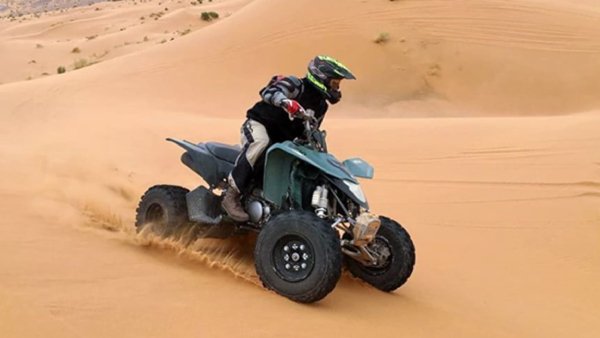 High-Octane Adventure
Prepare to unleash your inner adventurer as you take control of a Quad Bike. Feel the power of the engine beneath you as you rev it up and embark on an exciting off-road journey. Experience the thrill of speed, the excitement of maneuvering through twists and turns, and the joy of exploring the great outdoors on a four-wheeled adrenaline machine.
---
Scenic Exploration
As you zoom along on your Quad Bike, be prepared to be mesmerized by the scenic beauty that surrounds you. Take in breathtaking views of pristine nature, picturesque vistas, and hidden gems of the region. Capture stunning photographs of the landscapes and create memories against the backdrop of stunning natural wonders.
---
Diverse Terrains
Our Quad Bike activity allows you to conquer diverse terrains and encounter a variety of landscapes. Whether you're traversing sandy dunes, rocky trails, muddy tracks, or forest paths, each terrain presents its own unique challenges and excitement. Test your skills as you navigate through uneven surfaces, tackle steep inclines and descents, and splash through puddles or streams.