Jaisalmer

Jaisalmer, often referred to as the "Golden City," is a captivating destination in the state of Rajasthan, India. Known for its stunning sandstone architecture, rich cultural heritage, and vast desert landscapes, Jaisalmer offers a range of attractions that will leave you spellbound. Here are some must-visit attractions in Jaisalmer:
Jaisalmer Fort
Dominating the city's skyline, Jaisalmer Fort is a UNESCO World Heritage site and one of the largest fully preserved fortified cities in the world. Explore its narrow alleys, marvel at the intricate architecture of the havelis (mansions), and soak in the panoramic views of the city from the fort's ramparts.
Patwon Ki Haveli
This cluster of five havelis is a masterpiece of intricate craftsmanship. Admire the ornate facades, delicate carvings, and detailed balconies as you step back in time and imagine the opulent lifestyles of the wealthy merchants who once resided here.
---
Sam Sand Dunes
Venture into the Thar Desert and experience the mesmerizing sand dunes of Sam. Take a camel safari and traverse the undulating golden sands as you witness the magical sunset over the desert. You can also enjoy cultural performances, traditional music, and dance around a campfire.
---
---
Gadisar Lake
An oasis in the desert, Gadisar Lake is a man-made reservoir that served as a water source for the city in ancient times. Take a peaceful boat ride, explore the intricately carved temples and shrines around the lake, or simply relax on the picturesque ghats (steps) and enjoy the serene surroundings.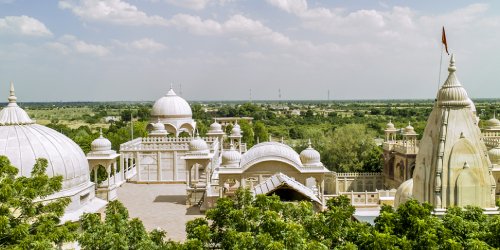 Jain Temples
Jaisalmer is home to several beautifully crafted Jain temples that showcase the city's religious and architectural heritage. The most notable among them are the Jain Temples inside the Jaisalmer Fort, renowned for their stunning sculptures and intricate detailing.
---
Bada Bagh
Located just outside the city, Bada Bagh is a serene garden complex housing royal cenotaphs (chhatris) of the Bhatti dynasty. Marvel at the impressive architecture and enjoy panoramic views of the desert landscape from this tranquil setting.
---
---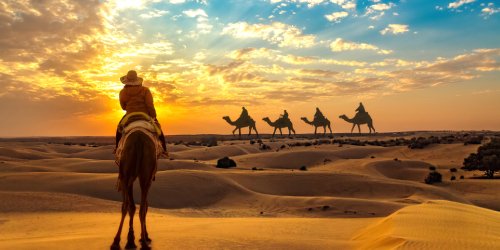 Desert Safari
Embark on an adventurous desert safari to explore the stunning landscapes surrounding Jaisalmer. Enjoy thrilling activities like jeep safaris, quad biking, and dune bashing, and experience the nomadic way of life in the desert.
---
Jaisalmer War Museum
The Jaisalmer War Museum is a significant landmark in Jaisalmer, dedicated to showcasing the bravery and sacrifice of the Indian Armed Forces. Inside the museum, there are informative displays and galleries that narrate the heroic stories of battles fought in the region.
Tanot Mata Temple
Situated near the India-Pakistan border, Tanot Mata Temple is famous for its legends of divine protection during wartime. It is believed that the temple has withstood enemy bombings without any damage, making it a symbol of faith and resilience.